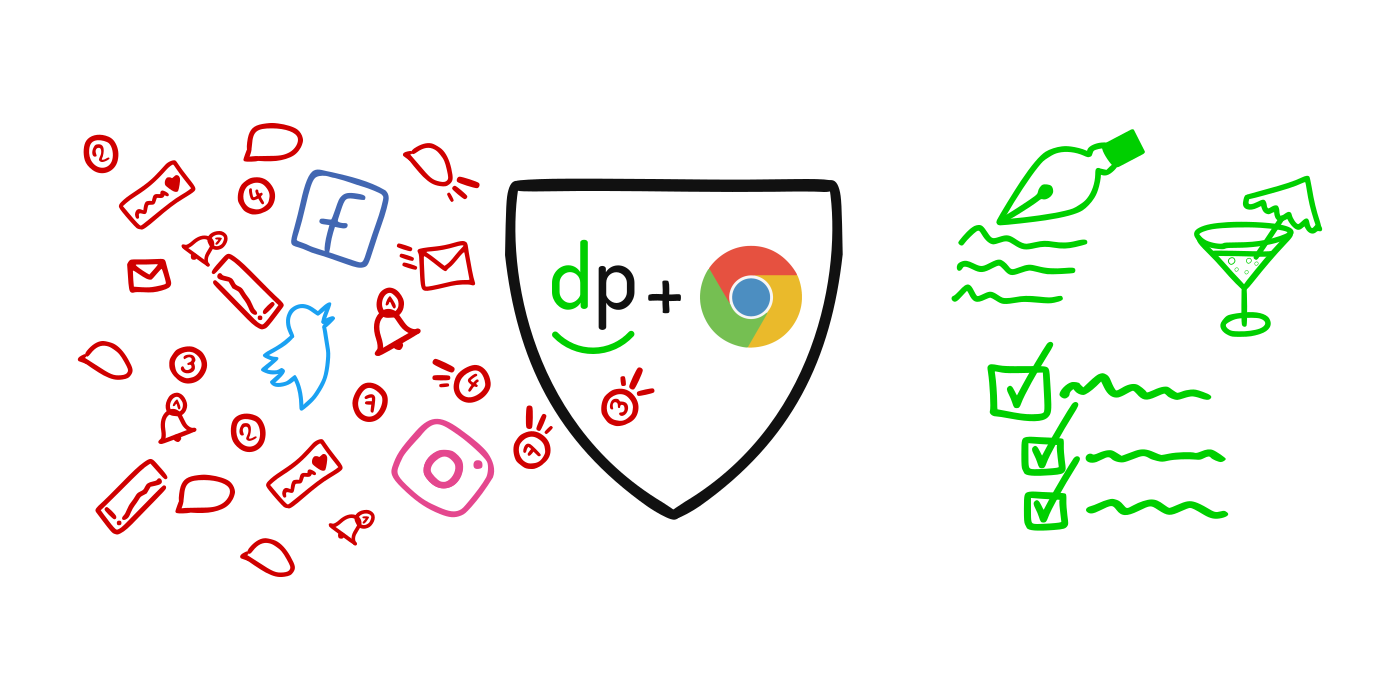 Block distracting sites on Chrome, beat 50 % of procrastination
Turn your browser into a calm, lean productivity machine
"I'm finding your extension much more effective than a typical "all-or-nothing" site-blocking tool, particularly the no distractions in the morning features and your notifications."
- Varun N.
New tab too tempting?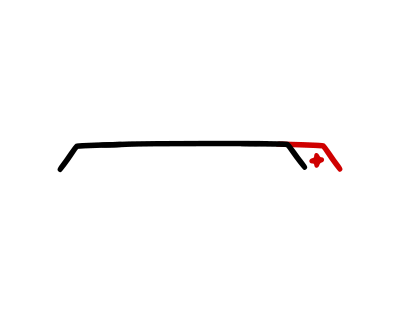 Morning goes off the rails often?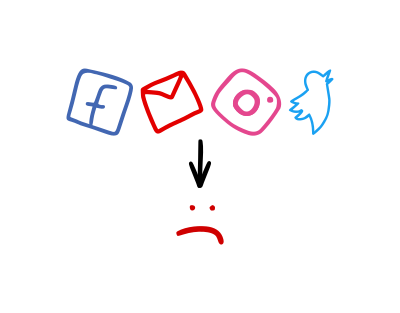 Too many tabs?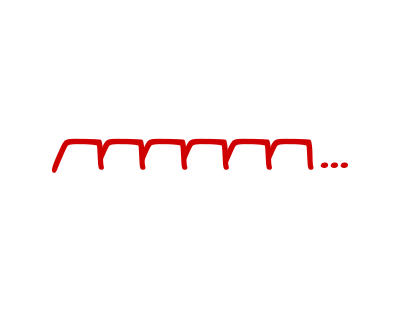 Spend a lot of time in the browser? We'll help you spend it smarter
The browser has become supercharged with distractions, we turn it into a creative and productive environment for writers, developers, or students.

The distraction cure for browser-working creatives

Both shallow and deep work are easier without distracting sites to lure you away.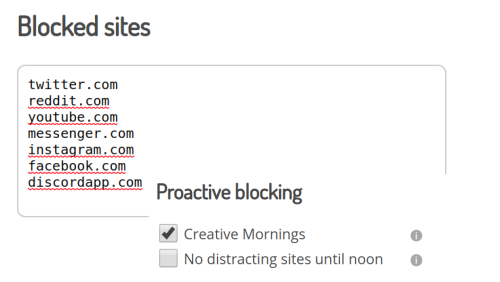 Start your day right with Creative Mornings
Creative Mornings feature will block distractions for the first hour of your day, so that you can focus on what matters first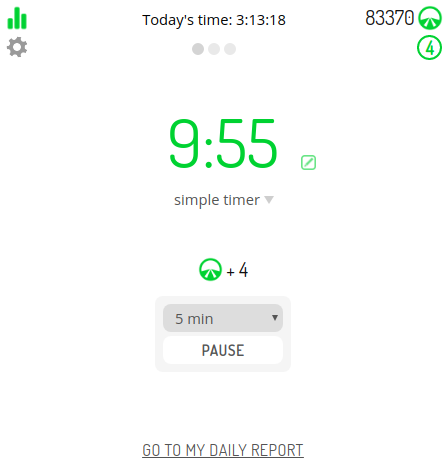 Start a timer to improve concentration
It's easier to make progress without the lure of social media, Youtube, or Netflix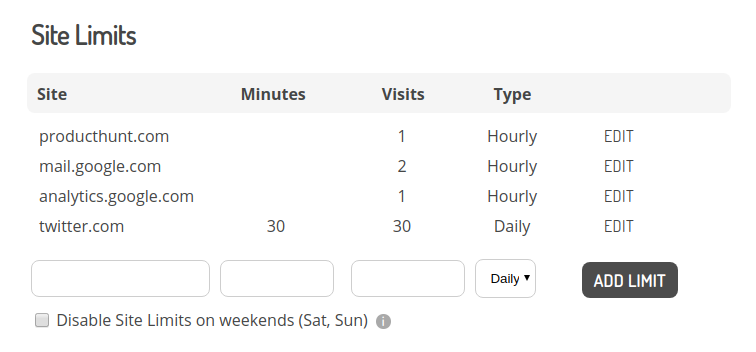 Stop checking sites out of habit with Daily & Hourly Site Limits
Tired of checking Twitter 50x a day or email 5x an hour? Set a limit!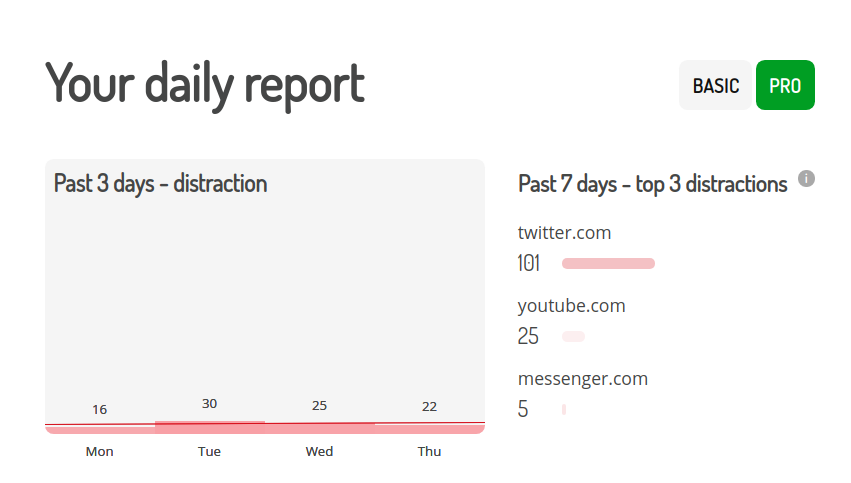 Become more aware of which sites waste your time the most
We'll keep a count for you to help you be more aware of your browsing habits
PRO (optional): become even more productive
$3.99 / month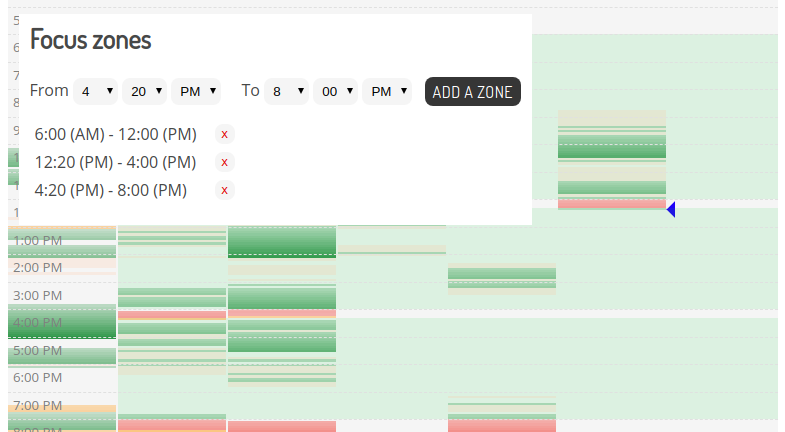 Train yourself to maximize focus in your preferred time window
Set your Focus Zones and automatically have distractions blocked out (ideal for remote workers)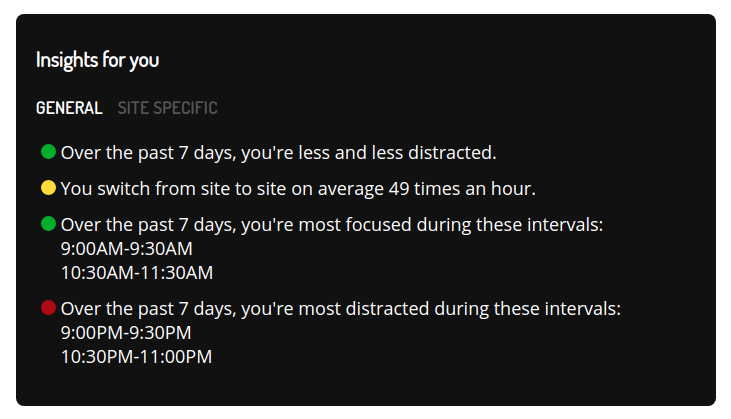 Gain more awareness of your browsing habits with Insights for you
Would you like to know when you're most focused or most distracted, how often you switch from site to site, or if you're trending in the right direction over the past 7 days?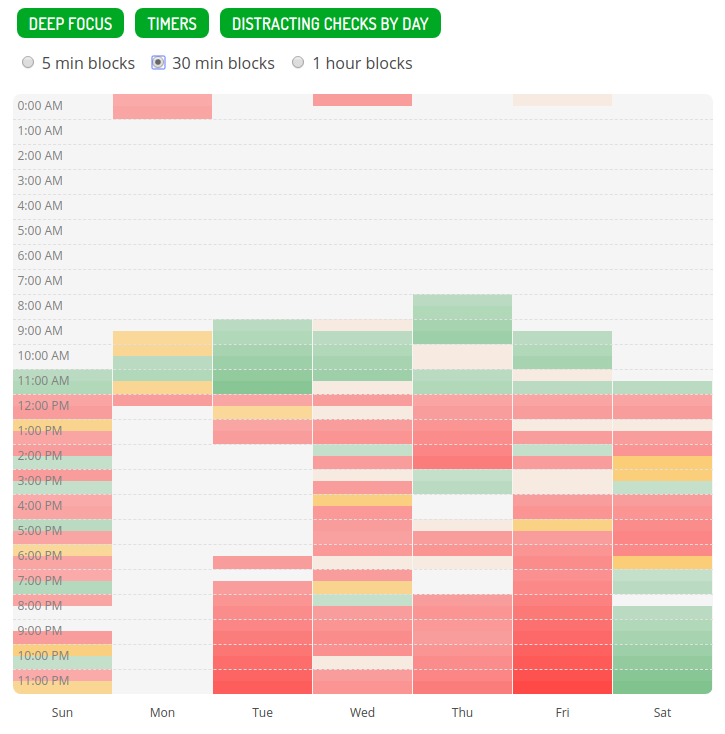 Understand exactly how often and how deeply you focus with Deep Focus
Our visualizations will show you when you're most focused and most distracted

Distraction-catching notifications will help you stay focused longer
A notification to help you get back to work every 10 or 25 distracting website checks, or when you have over 5 or 10 tabs open
FAQ
What am I missing out if I don't go PRO?
Honestly, all the essential functions are and always will be free.

With PRO you get 3 things:
CommitmentWhen you choose to pay, you won't stop using the extension. It's a contract with yourself to be productive.
Constant ImprovementIf you support us, we can continue improving the extension in the future to make it as useful as possible.
Access to PRO featuresYou get a set of additional features that make you more productive via data visualization, automatic site blocking, and notifications to improve your focus.
What makes deprocrastination.co different from other time-tracking services out there?
1. Customization to fit your needsWe're using the extension every day ourselves, listening to feedback from our users, and adding new features like Creative Mornings (blocks distraction for you automatically for one hour after you turn your browser on), notifications when you've checked a distracting site like YouTube 20 times, the ability to disable the extension on weekends, or a more established productivity tool like a pomodoro timer.
2. Data visualizationTogether with our Daily Reports, they help you see if you're improving or not in a couple of seconds.
Data visualizations also help you see the patterns that guide your browsing - they show you when you have a tendency to be distracted and when you focus consistently.
3. Game elements

You get points, achieve new levels, get achievements, unlock new functionality and ascend a leaderboard - all to give you a little extra motivation to focus.
We want to help you make a game of your personal productivity and help you compete with others, and more importantly with your past self.
Why use a site-blocking, focus-enhancing extension at all?
The browser wasn't designed to be a productive work environment.

It's too easy to open a new tab and get side-tracked. It's too easy to go down a YouTube rabbit hole or endlessly scroll Twitter.

When you block browser distractions, it'll be much easier to make progress on your goals.

Our users find particularly useful the Creative Mornings feature that blocks distracting sites for 1 hour after you start the browser in the morning.
I'm already using a time-tracking app, why should I use this extension?
Even if you're already using a time-tracking app, you can get substantial benefit from our extension because of our unique features, visualizations, and game elements.

Try our extension for 7 days, and you'll see for yourself whether it helps you or not (it will).